Among the services we offer to improve performance are:

Strategy review

You need a clear understanding of what you are trying to achieve in order to succeed. An effective maintenance strategy, therefore, starts with the goals and objectives of maintenance and then identifies how these are going to be achieved.

We help clients to clarify what their goals are, translate these into specific measurable objectives, work out appropriate strategies and tactics to achieve these objectives and then develop these into action plans that can be implemented on the shop floor.

If you don't have a clear strategy for maintenance or your current strategy needs updating, we can help.

If you don't know where you are going, there is a good chance you won't get there.
Performance measurement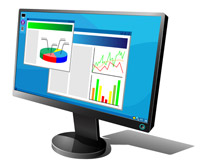 Feedback is essential if you want good performance. "If you don't measure it, you can't manage it."

To effectively manage maintenance and, in particular, to energise ongoing improvement, you need good performance measures as a guide.

We can help you to establish appropriate performance measures for maintenance and put reporting systems in place. We can also support the implementation processes to embed the new systems in the organisation.
Improving equipment reliability & performance

This service is based on the application of "Fast-track RCM" to production and utilities equipment in client factories.

Fast-track RCM is a derivation of standard RCM (Reliability Centered Maintenance) designed to better suit the needs of manufacturing companies. It incorporates useful elements from TPM (Total Productive Maintenance), FMECA (Failure Modes Effects and Criticality Analysis) and SMED (Single Minute Exchange of Dies). It delivers the benefits of systematic analysis that is central to RCM but at significantly lower cost (typically one third).

Fast-track RCM is supplied to our clients by our UK partners GGR Associates and additional information can be found on their website at www.ggrassociates.co.uk.
Maximising production line efficiency

To help you get the best out of your production lines, we offer our "P-cubed" service.

P-cubed (Peak Production Performance) is designed to help you get the maximum possible production line efficiencies.

There are three elements to this service:

The first element is a capacity study to establish what the production lines are capable of and to work out appropriate output targets. This information may already be available, in which case this step can be skipped.

The second element is implementation of a line efficiency reporting system. This is typically based on OEE and aims to identify all lost production opportunities - in principle accounting for the difference between the actual output achieved and that which would have been achieved at 100% line efficiency. This data may also already exist, in which case this step can be bypassed also.

The third element is analysis of the causes of lost production to establish what has to be done to eliminate these losses with follow-up improvement projects to deliver the higher line efficiencies.
"Lean Six Sigma" improvement projects

"Six Sigma" is now well established as a leading framework for efficiency improvement in the manufacturing and service sectors. Adding the principles of "Lean" (lower waste, higher efficiency) provides a powerful set of tools for improving maintenance performance.

We supply training and expertise to help clients apply Lean Six Sigma to all aspects of the maintenance function. We can assist with identifying the improvement opportunities and with the planning and implementation of Lean Six Sigma projects to drive out inefficiencies in your maintenance department.
Planning & implementing change programmes

Implementing change is one of the most difficult challenges faced by management - in maintenance as elsewhere.

We can help you to identify what changes are appropriate and implementable, assist in training and communicating the changes to staff, and support the implementation efforts until the changes are bedded down.