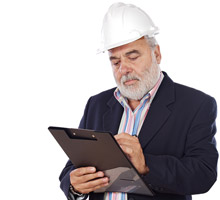 Having an outside expert look at your maintenance operation is a good way to identify where improvements can be made. We can carry out a systematic review of all areas of maintenance at your factory, calculate and benchmark performance measures and identify areas of weakness or potential improvement.
Our audit & analysis services include:

"Snapshot" maintenance audit

The "snapshot" maintenance audit combines analysis of basic numerical information supplied by the client with a conference room review session aimed at quickly identifying areas of sub optimal performance or potential improvement in the maintenance function.

The process is a structured, questionnaire based, review of all areas of maintenance and is intended to be highly cost effective and targeted at quick results with minimum investment.

Pharmaceutical industry audit

The pharmaceutical industry audit is similar to our snapshot audit but includes an additional assessment of how well the maintenance operation conforms to the good practice guidelines of the ISPE as published in their "ISPE Good Practice Guide: Maintenance" (see www.ispe.org for further information). This will provide specific direction for the maintenance manager to improve performance and reduce compliance risk.

In depth assessment

This is a thorough "root and branch" review of all aspects of maintenance from the ground up.

The review comprises a comprehensive and detailed assessment of the maintenance function including equipment reliability and downtime, equipment maintainability, reporting systems, working practices (with specific emphasis on structured work planning and control), organisation structure, costs and compliance. The objective is to identify all potential improvements in the maintenance function and, in particular, to troubleshoot any problem areas identified and find appropriate solutions.

Selective assessment & troubleshooting

Sometimes you don't know what's wrong or what potential for improvement you are missing. Maybe you are simply too close to the issue, or maybe you need specialist knowledge to identify how to resolve particular problems. We can help with highly experienced maintenance consultants who can troubleshoot specific problem areas to find solutions and improve maintenance performance.

These services are customisable if required to meet client requirements.